Igor Kheifets, WarriorForum's Most Respected List Building Coach, Presents...
"Solo Ad Consumer Education Message"

5 Costly Misconceptions About SoloAds
4 Recommendations On How To Consistently Pull Higher Optin Rates And More Sales With Solo Ads
6 Questions You Should Ask Every Solo Ad Vendor Before Parting With Your Hard Earned Cash

---
Would You Like To READ This Education Message Instead?
"Right Click & Save As" The Image Below To
Download PDF Version
"Before You Rush To Reach Out Using The Instructions Above, Check Out Some Of The Amazing Results Our Traffic's Producing For Our Many Clients!"
"Plain & Simple, Igor's Traffic Converts!"
"...500 Clicks, 8 Sales!"
"Igor Gives You Conversions!"
"...One Of The Best Lists I've Ever Mailed!"
"...300 Clicks, 7 MTTB Sales!"
"#1 Person I Buy Clicks From Every Month"
"Igor, Your Subscribers Are Awesome!"
"100 Clicks, 4 Sales"
"Thanks To Igor, My Optins Shot Up
From 22% To 46%!"
"Igor's Traffic Just Amazing!"
"I Couldn't Close High Ticket Sales
Without You, Igor, Thank You!"
"500 Click Solo Brought In 12 Sales!"
"...Far Better Quality Than Expected!"
"$700.00 in initial sales!"
"129 optins, 4 high ticket sales!"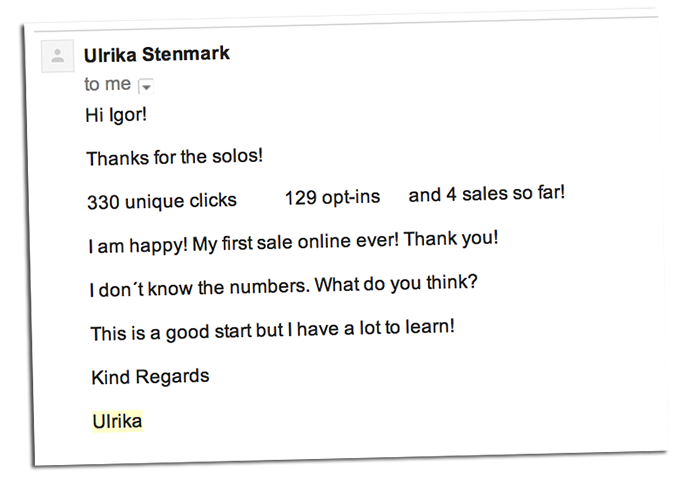 "162 optins, 4 front end sales..."
Even Google Says I'm Mr. Solo Ad!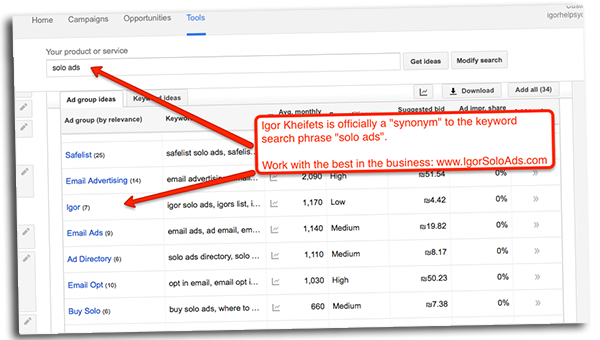 This is a screenshot from Google Keyword Research Tool. As you can see, in Google's eyes, my name is officially a "synonym" for Solo Ads.
I don't tell you this to brag... but to fill you with even more confidence that I know how to take care of you, and give you the highest quality traffic you've experienced.
Some people start solo businesses as a "hobby" or a "sideline"... but this is my entire life and the focus of all my energies!
I know how to pump quality traffic to offers like no-one else, and I've been doing it for years. When you work with me, you can sleep easy, knowing you're linking arms with someone who has a long track record of keeping his promises and delivering the goods.